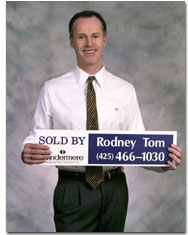 We have moved over a dozen times. Rodney is far and away the best agent we have ever worked with on either side of the deal. He is world class – the Michael Jordan of real estate. - L. Buerstatte
I want to thank you for selling our condo and all the hard work you put into it. You made the process of selling go smoothly for us and kept us informed with problems that arised, but with solutions so we were never kept in the dark. Thank you for doing such a great job! - L. Robinson
My first house purchase could not have been better. Rodney Tom was great! I will never use anybody else! - L. Ledger
Thank you so much for all of your work getting our house sold. There were many challenging obstacles to overcome. When we finally changed realtors and signed with you, my wife and I immediately felt comfortable and confident our house would sell, and at the right price. Your knowledge of the market and weekly communication with us during the listing were a great boost to our morale. The confidence you expressed about the sale put us at ease. As a result, the stress we had experienced before you arrived on the scene simply dissipated. Thank you for your help. - D. Wood
What can we say but thank you! You have worked so hard for us! Your wisdom and expertise has landed us our dream home! You thought of so many things we would have never been aware of. You truly had our best interest in mind. - J. Steiner
Thoroughly enjoyed the entire experience. I highly recommend Rodney to anyone looking for purchase a home. You did all that you asked plus provided guidance and expertise. - D. Boris
Rodney was professional, on top of everything, and fun to work with. When we sell this house and look for another- we will definitely want him to work for us again. - B. Handelman
Rodney made us feel like we were his one and only client. He was professional, personable and delivered timely responses to all our requests/questions. - R. Okuma
Thank you so much! Your professionalism, customer focus, and your caring for my parents and their needs, really made this an easy journey. - J. Olson
Thank you for all you did for us! I hope you never have another client like us. But seriously, we do appreciate the patience you exhibited though the whole process. - J. Leggett
Thank you for all your help in showing us the many different neighborhoods and answering all our questions. - A. Marion
Thank you so much for all your help in our search for a new home and in closing on it. - W. Harnos
Thanks a lot for all your help. I've really enjoyed working with you as a buyer and a seller. - C. Cline
Twelve years as one of the Eastside's top real estate agents

Eastside native – born and raised in Bellevue

Graduate – Newport High School (1981), University of Washington – BA Finance, University of Southern California – MBA Marketing / Real Estate

Both a re-sale and new construction expert


As an Eastside native, Rodney is intimately familiar with the regions exceptional attributes and unique features. After receiving an MBA from University of Southern California, Rodney obtained his real estate license in 1989 and now has over a decade of experience selling a vast variety of properties, ranging from smaller condominiums, individual lots, entire subdivisions to waterfront estates.

On a personal note, Rodney lives in Medina with his wife Debbie, two incredible children, Nicole and Dylan, and the family Golden Retriever, Chanel. When not working, Rodney enjoys exercising, mountain climbing, and golf. Rodney has run three marathons (Seattle, Tri-Cities, and San Francisco) and numerous half marathons. Rodney has climbed all five volcanic peaks in Washington state (Mt. Rainier, Mt. Baker, Mt. Adams, Mt. St Helens, and Glacier Peak). With regards to golf, Rodney enjoys playing a variety of courses. His top ten in-state courses are Snoqualmie Ridge, Sahalee, Desert Cannon, Trophy Lake, Semiahmoo, McCormick Woods, Newcastle, Druids Glen, Classics, and Eaglemont. Rodney's top ten out-of-state courses are Pebble Beach, Bighorn, Bandon Dunes, Vintage, Cabo del Sol, PGA West, LaQuinta Country Club, Mission Hills, Keole, and Chateau Whistler.

Windermere Real Estate

Windermere has grown from modest beginnings to become the leading real estate firm in the Northwest. Windermere agents offer you an unsurpassed marketing network to help you reach your real estate goals.
Windermere is the Northwest's largest real estate firm.


Windermere is a federation of more than 180 offices, all locally owned and independently operated.


4,800 knowledgeable sales associates serve communities in Washington, Oregon, Idaho, California and Arizona.


We can be a big company when it comes to buying power, such as advertising.


We can be a small, one-office company, to serve a specific community.


Knowledgeable sales associates in nearly every Northwest market means you can count on the same quality service wherever you live.


We participate in more transactions than any other Northwest firm.